You never imagined that your property would catch fire. Now that it has, you need help fast. Fire damage is one of the most devastating types of damage your property can face, but the good news is that you don't have to deal with it by yourself. Dryman Construction handles fire damage restoration in Rockwall and beyond
Call our fire reconstruction team now so that we can get your property back to its pre-damaged state. The sooner we get to work, the simpler the restoration process will be.
Have questions? Don't know where to start?
Fire Damage Restoration
At Dryman, we use a step-by-step fire reconstruction process that we tailor as needed. We'll match our process to your property's needs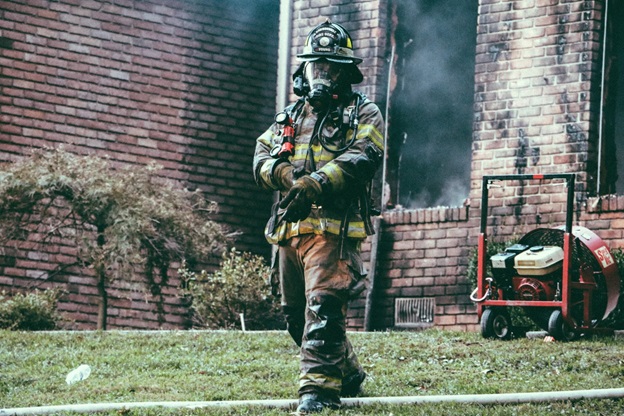 1. Property Assessment
First, we take a good look at the property and analyze the damage. This step lets us see the extent of damage, and it helps us finalize our plan for complete fire damage restoration. During this step, we can also give you your free estimate and answer any questions you may have about the process.
2. Securing the Structure
Next, we secure the property so that it's ready for our fire reconstruction process. Safety is our top priority, so we take this step seriously. We double and triple check to make sure that your property is ready for fire damage restoration. 
3. Complete Damage Restoration
Our complete fire damage restoration process includes removing and rebuilding any fire-damaged structures. Fire weakens all kinds of materials, making your home or property unsafe. Our fire construction team will strengthen and rebuild the damaged parts of your property, making it safe again for day to day use. 
In addition to fire restoration, our team will also take care of any lingering water damage. We can remove standing water, restore water-damaged areas, and check for mold and mildew.
Cleanup
Fire leaves a lot of dirt, ash, debris, and other unsafe material in its wake. Ordinary cleaning methods aren't enough to remove soot and other fire residue. When fire burns through different materials, it creates different chemical reactions, leaving behind sticky and dangerous residue. Regular cleaning products just weren't designed to take on this kind of damage
However, the Dryman fire damage restoration crew carries premium-grade cleansers meant especially for soot and similar damage. Our team is also trained to handle especially challenging cleanup situations. We can clean up damage that most people can't handle.
Smoke and Odor Removal
Smoke and odor are hard to remove for the same reasons that soot is hard to remove: chemical reactions. When fire interacts with plastic, metal, glass, fabrics, and other materials, the resulting smoke carries stubborn particles that don't go away without a fight. Thankfully, that's a fight that we're prepared to win.
 We use a complete smoke removal process that leaves properties with fresh, breathable air. We understand all of the biggest challenges of smoke and odor removal, and we have the equipment and skills to handle those challenges.
Hauling Away Damage
Once we've removed and rebuilt the damage done to your property, we know that you don't want any lingering reminders of that damage. There's no need for you to figure out what to do with the remaining debris. The Dryman fire reconstruction crew will haul it away for you.
Contents Restoration
After fire damage, there are some things that just can't be replaced. Items like quilts, stuffed animals, and other individual belongings can have sentimental value.
 Not every fire reconstruction company can restore these items, but Dryman Construction offers a complex contents restoration process that may bring these items back to life. We'll carefully pack your contents, bring them to our safe storage facility, and gently restore them back to their best possible condition.
 Clients are often surprised by how good their contents look after our restoration process. Not every damaged item is necessarily lost for good. In fact, we often restore items that our clients assumed were beyond repair. Don't lose hope for your prized possessions. We may be able to restore more than you realize.
Why Call Dryman Construction?
Why should you call Dryman Construction for your post-fire construction needs? We started Dryman Construction because we noticed a need for excellent, client-centered service, and we bring that high-quality service into everything we do, including fire damage restoration.
Expertise and Experience
Dryman Construction hires well-trained, highly experienced employees for our fire reconstruction services. Our fire damage crew members have years of experience restoring damaged properties after major disasters. Thanks to their experience and training, they bring plenty of expertise into each and every reconstruction project. Your home or property will see the benefits.
Full Construction Team
At Dryman, we're not just a fire damage restoration company. We're a full service construction team that can handle everything from roofing to basement water mitigation. What does that mean for your property's fire reconstruction? It means that we have team members for all possible obstacles during the restoration process. We handle tasks that other teams can't handle because they don't have the expertise that we have. We're a full-service mitigation and construction company, so we're here for whatever you need.
Home and Commercial
We provide fire damage restoration services for all types of properties, including homes, apartment complexes, office and government buildings, and much more. Our training and experience reflect many different property needs, and we use a specific approach for each kind of structure. No matter what kind of property you need us to restore, you can rest assured that we have what it takes to finish the job.
Client Satisfaction
Next to safety, client satisfaction is our top priority. If you're not satisfied with our work, then neither are we. When you've been through a disaster, you deserve the best, which is why we put our best effort into our restoration work.
Don't wait to have your property restored after a fire. You need help right away. Call the Dryman team to start with your estimate. Let us get to work now and make your property safe and whole again.
Ready to Restore Your Home or Business?
Our team of experts are ready to handle your reconstruction from beginning to end. Email us or fill out the contact form.

1348 Mims Rd
Rockwall, TX 75032

Office Hours:
Mon – Fri 8am-5pm